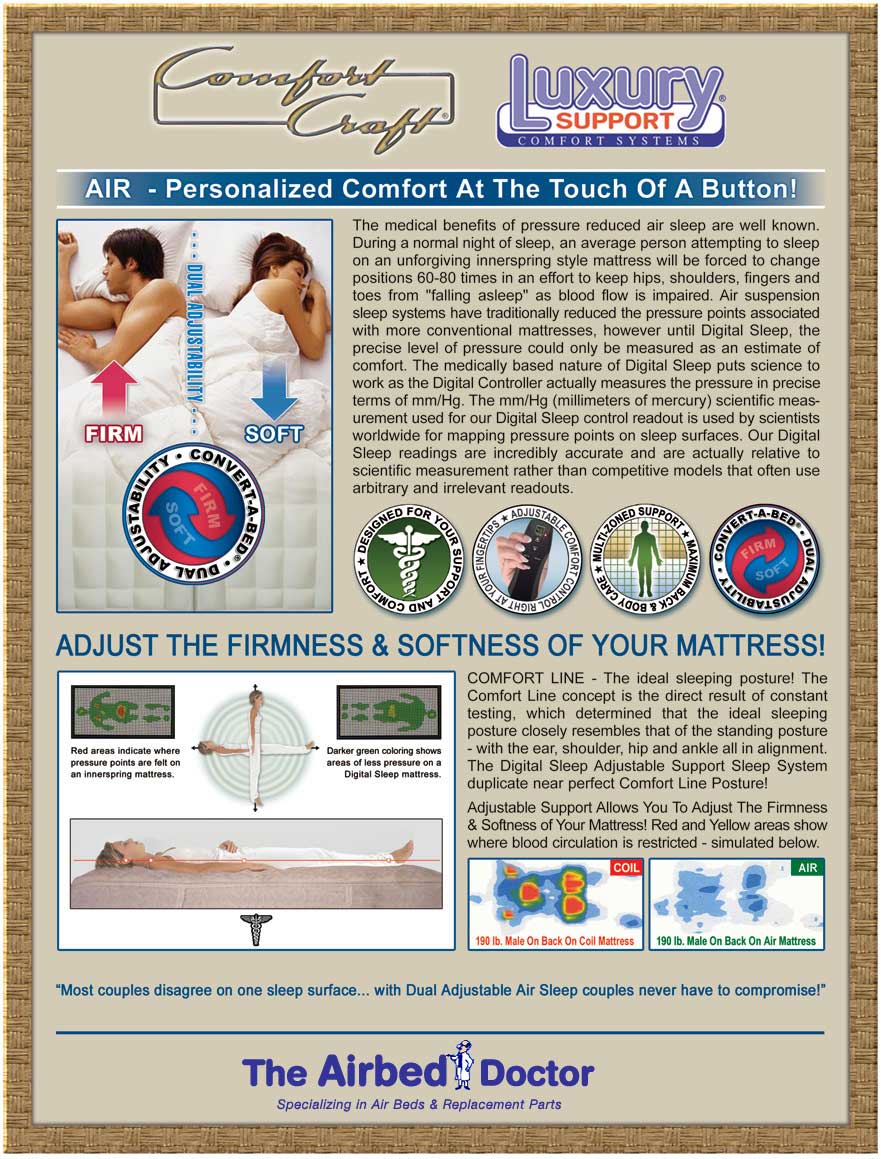 Why Select An Adjustable Airbed or Air Mattress from The Airbed Doctor?
Air Mattresses from The Airbed Doctor - Personalized Comfort at the touch of a button!
Adjustable Airbeds and Air Mattresses Adjust the firmness and softness of each side of your mattress! Air Beds contour to your shape allowing your body weight to be evenly distributed for minimum contact pressure.
The medical benefits of pressure reduced air sleep are well known. During a normal night of sleep, an average person attempting to sleep on an unforgiving innerspring style mattress will be forced to change positions 60-80 times in an effort to keep hips, shoulders, fingers and toes from "falling asleep" as blood flow is impaired. Air suspension sleep systems have traditionally reduced the pressure points associated with more conventional mattresses, however until Digital Sleep, the precise level of pressure could only be measured as an estimate of comfort. The medically based nature of Digital Sleep puts science to work as the Digital Controller actually measures the pressure in precise terms of mm/Hg. The mm/Hg (millimeters of mercury) scientific measurement used for our Digital Sleep control readout is used by scientists worldwide for mapping pressure points on sleep surfaces. Our Digital Sleep readings are incredibly accurate and are actually relative to scientific measurement rather than competitive models that often use arbitrary and irrelevant readouts.
Select your ideal sleep comfort number at the touch of a button, and customize the correct support to fit your personal preference, from extra firm to feather soft, so that your waking up feeling relaxed, refreshed and energized!
FREE SHIPPING from The Airbed Doctor!
30 NIGHT NO RISK TRIAL from The Airbed Doctor!